News archive: Two MBEs for B4RN
June 14th, 2015
Author: Chris Conder
Tags: b4rn broadband community dig2agig digitalbritain duct Eric Ollerenshaw farmers fibre fibre to the home fibrebroadband ftth hyperfast innovation jfdi MBE radio Lancashire ruralbroadband symmetrical volunteers
Posted In: Archive News

BARRY FORDE and CHRISTINE CONDER Awarded an MBE in the Queen's Birthday Honours
| | |
| --- | --- |
| | |
| | "I'm delighted that my work on rural broadband has been recognised with this honour. However it's important to realise that without the massive investment of time, effort and money by many hundreds of other people we could not have built the B4RN network, so I think we should regard it as a joint award. Between us all we have proved that there is little that cannot be achieved if the will and determination is there and people take an active part in their communities" |
'I am very honoured to accept this MBE on behalf of the people involved in these community projects, we're going where telcos fear to tread, we are JFDI, bridging the digital divide and building social cohesion in this rural area. The B4RNstormers go the extra mile, to reach everyone.

It is also a great achievement for a group to be awarded two honours at the same time, and reflects the enormous impact B4RN has had, both in the UK and further afield. Hopefully it will encourage politicians to support similar initiatives in other rural areas and make it easier for communities to help each other. Power to the People'.

Chris Conder.
BARRY FORDE: Barry has been awarded an MBE specifically for his truly pioneering work in establishing and running (as CEO) the community benefit society known as Broadband for the Rural North (B4RN). Barry has a distinguished background in both academic and social enterprise work. He holds a Professorial Fellowship in Computer Networking within the Department of Computing at Lancaster University where he was head of networking, head of technical services and Deputy Director Information Systems Services until his retirement. In the wider context, Barry was previously responsible for the CLEO network, which connects over 1000 schools and public sector sites across Lancashire and Cumbria; a member of the JISC committee, which oversees the university JANET network; and a member of the NWDA Broadband Advisory Group.
Within his work at B4RN since 2011, he has been passionate and committed to extending the concepts and techniques pioneered at B4RN to other community organisations across the UK. Many 'baby-B4RNS' have been formed and are now taking Barry's concepts and applying them to their local communities. Barry is a frequent speaker at many organisations at a national level trying to extend rural broadband to the final 5% of the population – an area of nearly 60% of the landmass – who are not covered by any commercial roll-out plans of incumbent suppliers, nor via the government's current broadband programmes.
The effect of B4RN on its immediate community has been profound. This would simply not have happened without the forbearance, skill, enthusiasm and community focus that Barry brought to the organisation. Many residents and farmers in this sparsely populated rural area are now enjoying broadband speeds some fifty to five hundred times faster than the average rural broadband speeds from the UK incumbent suppliers. In many cases this has been a move from giving other alternative networks a model whereby they too can get on the fast lane of broadband delivery. Under Barry's guidance B4RN has been able to achieve all this without government subsidies and without support from the local authority. Indeed, in many ways the conventional risk-averse mind-set of authorities has actively put barriers in his way – each of which has been systematically overcome. Barry's legacy will be a hyperfastfibre to the home network, built by the local community, for the local community, and in doing so has shown the rest of the UK a better way to achieve results.
CHRISTINE CONDER: Chris is a farmer's wife, grandmother, and passionate evangelist for better communications networks to help the disadvantaged rural communities in her home village of Wray, the Lune Valley and the Trough of Bowland. She has been very active in the local community in excess of thirty years, starting with being school governor and Chair of Wray Endowed School during the eighties and early nineties. She began campaigning for better rural broadband as long ago as 2002, and over the next few years was a founder of Wray Com Com which brought internet to the residents and schools of Wray for the first time.
In 2009 she was a leading individual in the creation of the Wennet Community Interest Company, a wifi network, which laid the first rural fibre to the home network in May 2009. She was a founder member of B4RN in August 2011 and is in many respects the public face of B4RN – out in all weathers to dig trenches, lay conduit, blow fibre in the backbone and to customer premises, as well as helping with organising teams of volunteers in the many villages and parishes.
She is an ardent user of social media – Twitter, Facebook, Pinterst, YouTube — such that there probably isn't anyone active in the rural broadband market in the whole of the UK that is not aware of her presence, commitment, straight-talking and willingness to challenge the status-quo of the incumbent operator. Her presence is equally felt at European level, where she acted as an observer reporting to Neelie Kroes on matters pertaining to the Digital Agenda in Europe.
In between her many roles Chris has also found the time to work on other community events, and particularly in the formation of the modern day Wray Scarecrow Festival which was restarted in 1994 with Chris as a founder member of the committee. She is the personification of the 'Can Do' spirit: nothing is too much trouble and many are helped by her energy and enthusiasm.
B4RN Briefing notes:
It is three years since the first sod was dug by Woodie the mayor and Eric Ollerenshaw MP, and filmed by John Popham.
Since its inception three years ago in Quernmore, B4RN has been providing hyperfastfibre-optic broadband service to outlying villages and isolated hamlets that are otherwise served only by dial-up or suffer from very bad reception. The B4RN area has now extended to 27 parishes with a very high up take in each parish. We have laid approximately 500 miles of fibre, and the network has already been shown to create jobs, foster community spirit, encourage enterprise and support education.
All of the work is sourced locally and digging, laying duct, blowing fibre, connecting properties and so on, is done or paid for by volunteers for the good of the community.
B4RN provides 1000Mbps symmetrical fibre-optic broadband directly to each property for £25 per month plus VAT, and all benefits have to go back into the community. It will be up to the community (B4RN membership) to decide what will be done with the income from its service. B4RN now has 6 paid staff, and all of the rest of the work, digging, laying duct, blowing fibre, connecting properties and so on, is still done by the volunteers. B4RN provides training and some younger helpers have already decided to follow a career through these opportunities, two of whom are now full time employees.
Community initiatives are being trialled that make use of the superior bandwidth available such as broadcasting church services and cricket matches to those who can't attend, and also trialling medical services which are particularly useful for the elderly or infirm or those with young children who can thus be seen at home. CCTV for home security and monitoring lambing sheep and calving cows is also being installed in many places.
True fibre-optic broadband that is dug under the ground directly to the house is effectively invisible, and ideal in areas of outstanding natural beauty. It is also extremely resilient and not affected by wind or rain. It provides energy efficient and cost-effective high quality broadband that is future proofed and requires very little maintenance.
See /assets/legacydocuments/Pressure-groups-JUNE-2015.pdf for a good recent article. More information on www.b4rn.org.uk
Our latest mini video https://youtu.be/Uf6Jw2gxSJw
HRH Prince Charles did us the great honour of visiting B4RN on 1st April 2015. He took part in demonstrations of blowing fibre in fields and to the property, connecting up a bullet (the spiders web of connections that goes into the chamber), and splicing fibre including doing a splice that is now in our 1000th connection.Barry Forde and HRH Prince Charles looking at fibre being blown by Tom Hartley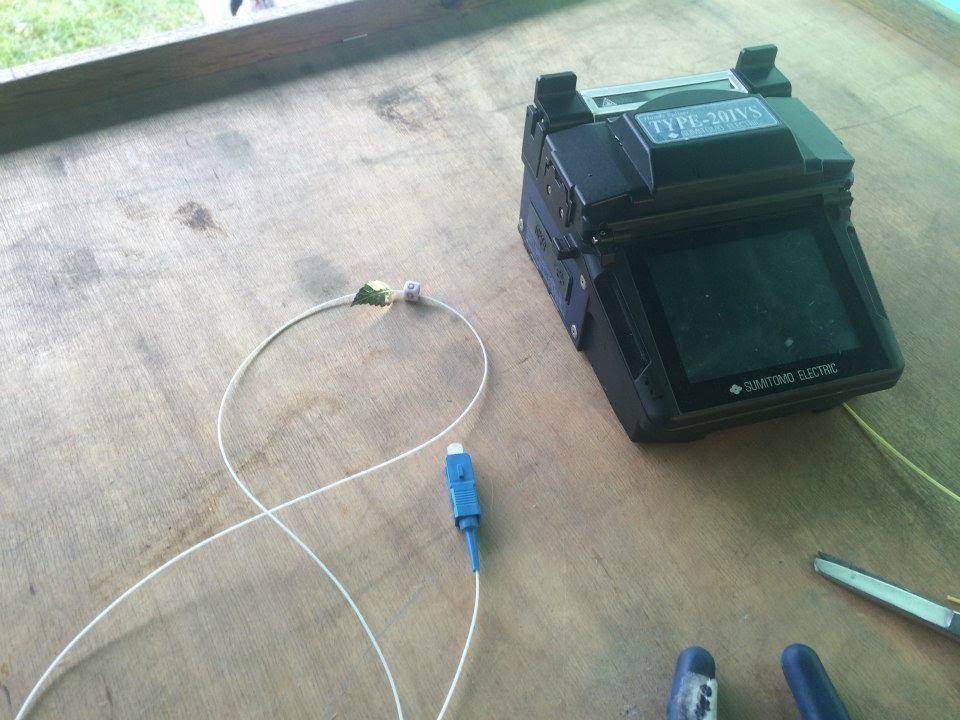 Prince Charles fused this pigtail, which contains a golden leaf and a tiny bead with the letter 'C' on it.
We have now passed the 1000th isolated rural property and hope to achieve many more by the end of the year!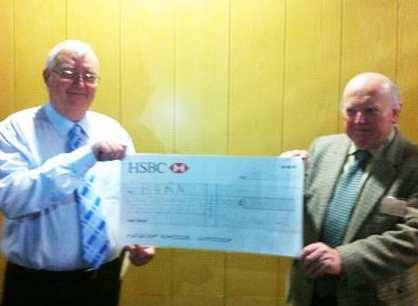 Our very first shareholder, Walter Wilcox from Surrey presenting his cheque to Barry Forde.
The 1,000,000th Share was donated to our very first shareholder, Walter Wilcox, a pensioner from Surrey, who regularly travels up north to help dig, and generally support our progress.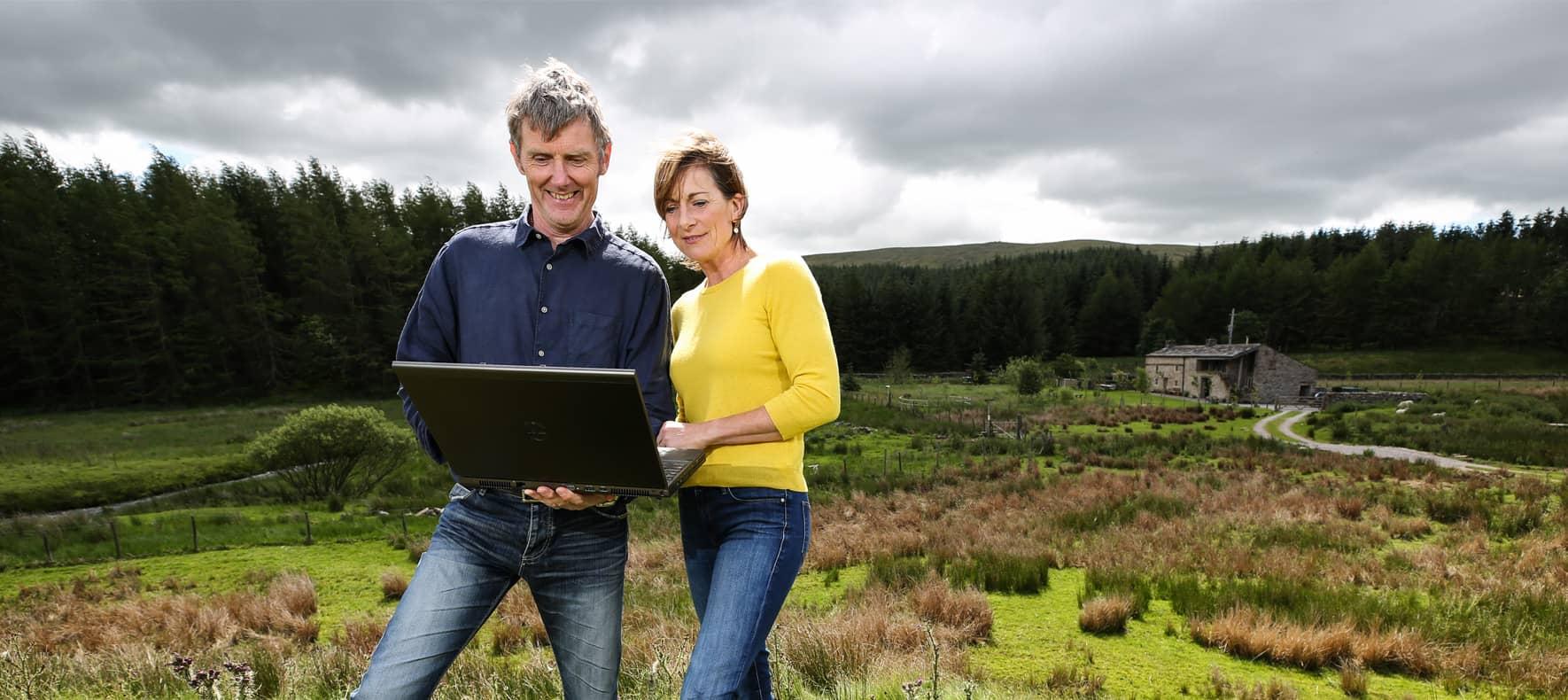 Customer Testimonial