Our technical support team are based at Melling near Kirkby Lonsdale and are here to help you with any technical issues with your B4RN service.
How do my devices connect to the internet?
Your devices in the home will connect to the B4RN router via Wi-Fi or an ethernet cable. Ethernet is ideal for devices that are in a fixed position and Wi-Fi for portable devices.  Devices connected via Cat5e or above ethernet cables will always give the best speed and reliability.
The B4RN router connects to your local distribution cabinet via a direct fibre connection which will typically run underground through your garden in a 7mm orange duct, possibly running alongside ducts from near neighbours. These ducts then run to a distribution ground chamber in a nearby pavement or field. From the ground chamber, your fibre and those of your neighbours run underground to the local distribution cabinet which usually serves your village or parish. In summary, you have your own fibre that runs from the router to our distribution cabinet.
Your local distribution cabinet is then connected to one or more of our core cabinets and out to the edges of our network.  Traffic will flow in and out through our points of presence in Manchester, London, Newcastle or Leeds.
At this point your traffic has left our network and is being handled by third parties until it reaches the destination server or service you are using.
Although we are delivering a connection that runs at close to Gigabit speeds, you may find the service (website, app, your workplace etc) you're connecting to may have a slower connection than yours, or may have a slow running server.
The answers to the questions below will help you troubleshoot potential issues that may arise.
We normally use Tuesdays and Thursdays – 01:00 to 08:00 – as a maintenance window to perform network operations such as router firmware upgrades, equipment replacement, security updates, minor cable replacements, and other small works with low impact. Occasionally we may plan maintenance at other times for operational reasons. Any major works will be identified on our Service Status page and customers affected will be notified in advance.
You can check for planned maintenance or other issues here
Firstly, identify the location, ideally using what3words (downloadable app for Android and iPhone – you can also use their website at https://what3words.com), Next please take some photographs showing a general overview of the area involved and some close up's showing the actual damage. If you have photographs email outage@b4rn.org.uk or alternatively call 015242 38499 (option 1). If you get our voice mail, please make sure you leave your contact details together with details of the location and the nature of the damage.

Other assets would include ground chambers, lids and distribution cabinets. If you notice damage to any B4RN asset, we'd be very grateful if you could let us know as detailed above.
If there are no lights showing at all on your B4RN router, then please check the following:
The Genexis DRG7820 and all Zyxel routers have a power switch. It is easy to catch that switch whilst cleaning near the router. Check the switch isn't in the off position. Has another family member turned the router off for some reason?

Is the power lead fully inserted in the router and the power transformer plugged into a working power socket?

Has the circuit breaker tripped in your consumer unit? If so, you'll notice other items on that circuit won't have power.

Assuming the power circuit is OK, try a table lamp or other small appliance in the power socket that the B4RN router is plugged into. You could also try the B4RN router in a different power socket.

If you still have an issue, please contact us.
There can be several reasons for this. Please check the following:
If you have another means of accessing the internet such as a mobile phone, check our network status page at b4rn.org.uk/ns and see if there is a problem in your area.

If the Internet light is green and active (labelled with a <> symbol on a Genexis router, labelled as Internet on a Zyxel router) and you can't access the internet then read the item "No internet after a power cut or coming home after time away".

If you have a Zyxel router, check that the SFP and Internet lights are green. If they are both blank then this could indicate a physical problem with the fibre. The Zyxel router has a white fibre patch lead from the router to the white B4RN box on the wall. Check that there is no damage to the lead such as kinks or chewing by pets. Has the lead been caught and pulled out of the white box? If the patch lead is damaged, please contact us.

If you have a Genexsis router and the Internet light (which has this symbol below it <>) is blank, this could indicate a physical problem with the fibre. Contact us so we can talk through tracing the problem.

It's possible the Wi-Fi has been turned off on the router by accident. See "Wi-Fi has stopped working".
If you normally connect your devices to the B4RN router Wi-Fi and devices can longer see the router Wi-Fi network, check the following:
Zyxel router
Check that the SFP and Internet lights are green. If not read the "Router has power but devices can't reach the internet" item.

Are the 2.4G and 5G Wi-Fi lights green? If not, it's possible the Wi-Fi has been turned off by accident. The Zyxel DX5301 has a small Wi-Fi on/off button on the back which can be caught by accident when handling the router. Other models of Zyxel router have the Wi-Fi on/off button on the left hand edge of the router.
Genexis router
Check that the Internet light (with the <> symbol below) is green. If not read the "Router has power but devices can't reach the internet" item.

Is the Wi-Fi light on the far right illuminated? If not, it's possible the Wi-Fi has been turned off by accident. Most Genexis routers have a WPS button on the right hand side of the router. Pressing this for 10 seconds will turn the router Wi-Fi back on. If pressed again for 10 second, it will be turned off. This button is normally used for WPS pairing in which case, a 5 second press will initiate pairing.
You may be using Wi-Fi extenders or a Wi-Fi Mesh system to extend Wi-Fi to other parts of the house. It could be that one or more of those units has been turned off or has lost connection to the B4RN router in some way. Check the instruction manual or manufacturers support website for details of troubleshooting issues with such devices. If you're still experiencing an issue, we'll do our best to assist.
If the Internet light is green and active (labelled with a <> symbol on a Genexis router, labelled as Internet on a Zyxel router) and you use some form of Wi-Fi extender/booster/mesh to extend your Wi-Fi through the house, please follow these steps:
Turn the power off on each of the Wi-Fi extender/booster/mesh units. Make sure you don't miss any. You can turn the power off at the power socket or there maybe a power switch on the units.

Turn the power off on the B4RN router.

Turn the power back on to the B4RN router and wait 3 minutes

Now turn the power on to the Wi-Fi extender/booster/mesh units starting with the one nearest the B4RN router.
This should resolve the issue, if not, please contact us.
On a Zyxel router, the Wi-Fi password can be found on a card or label on the rear of the router and is labelled "Wireless key". On a Genexis router it can be found on a label on the front of the router and is labelled "WPA Key" or "WPA-PSK".

Make sure you enter it in UPPER CASE exactly as shown and don't confuse Z with 2, an S with 5 or a B with 8 etc. The Zyxel routers have a QR code on the card or label which a modern smartphone or tablet should be able to scan with its camera and add the device to the Wi-Fi network.
You should only factory reset your router if we've asked you to do so. Resetting some models of router will disable your internet connection requiring our Technical Helpdesk to restore the router configuration.
B4RN deliver a service to the router which runs at around 900Mbps upload and download. If you connect a Gigabit capable device to the B4RN router with a CAT5e or CAT6 ethernet lead you should experience speeds in that region. Bear in mind if you connect via other equipment such as a network switch, that must be Gigabit capable for best results.
Wi-Fi speeds and reliability will depend on the device being used, its distance from the router, house construction and other factors. It is likely Wi-Fi speeds will be variable and lower than an ethernet connection.
If you are conducting a speed test, use the downloadable Speedtest app by Ookla and make sure there isn't any other network activity taking place whilst conducting the test. Please don't use web browser based speed tests as they are not reliable.
If you have concerns or questions about network speeds or Wi-Fi then contact us as we can suggest solutions for improving Wi-Fi coverage.
For B4RN's Primary DNS please use 5.83.8.8.
For a Secondary B4RN DNS please use 185.201.32.254 or 148.252.16.254. (Norfolk customers please use 194.113.44.254)
For B4RN NTP use ntp0.b4rn.org.uk and ntp1.b4rn.org.uk or 185.201.32.254 and 148.252.16.254 as appropriate for your system.
Our engineers are based locally, which means the majority of faults for B4RN customers are resolved either same day or next day, with more than 80% fixed within 2-3 days.
The B4RN User Group is a self-help group for users, prospective users and those interested in the B4RN fibre Internet service. Need to know how to make the most of your shiny new hyper-fast fibre Internet access? How to make sure your Wi-Fi reaches through the house? How to set up VoIP? Then this is the place! Only have an iPad? No problem. Access the 'net with your 'phone? Not a problem; if you're a B4Rnie, you're welcome!

The group also meets online on Friday afternoons from 2pm to 4pm.

Find out more at their Facebook page or their website www.thebug.org.uk
Note that the B4RN User Group operates in an unofficial capacity so do report any loss of service and related issues directly to B4RN.
General technical queries – helpdesk@b4rn.org.uk
Outage/loss of service – outage@b4rn.org.uk
Telephone: 015242 38499 (Option 1 – Technical Support)
Opening Hours:
Monday to Friday: 9am to 5pm
Voice messages can be left outside these hours or if all lines are busy. If leaving a message, please give your name and the full address including postcode of the B4RN service together with a brief summary of the problem. If you're experiencing a loss of service, please also note and tell us what lights are showing on the router from left to right and what colour they are.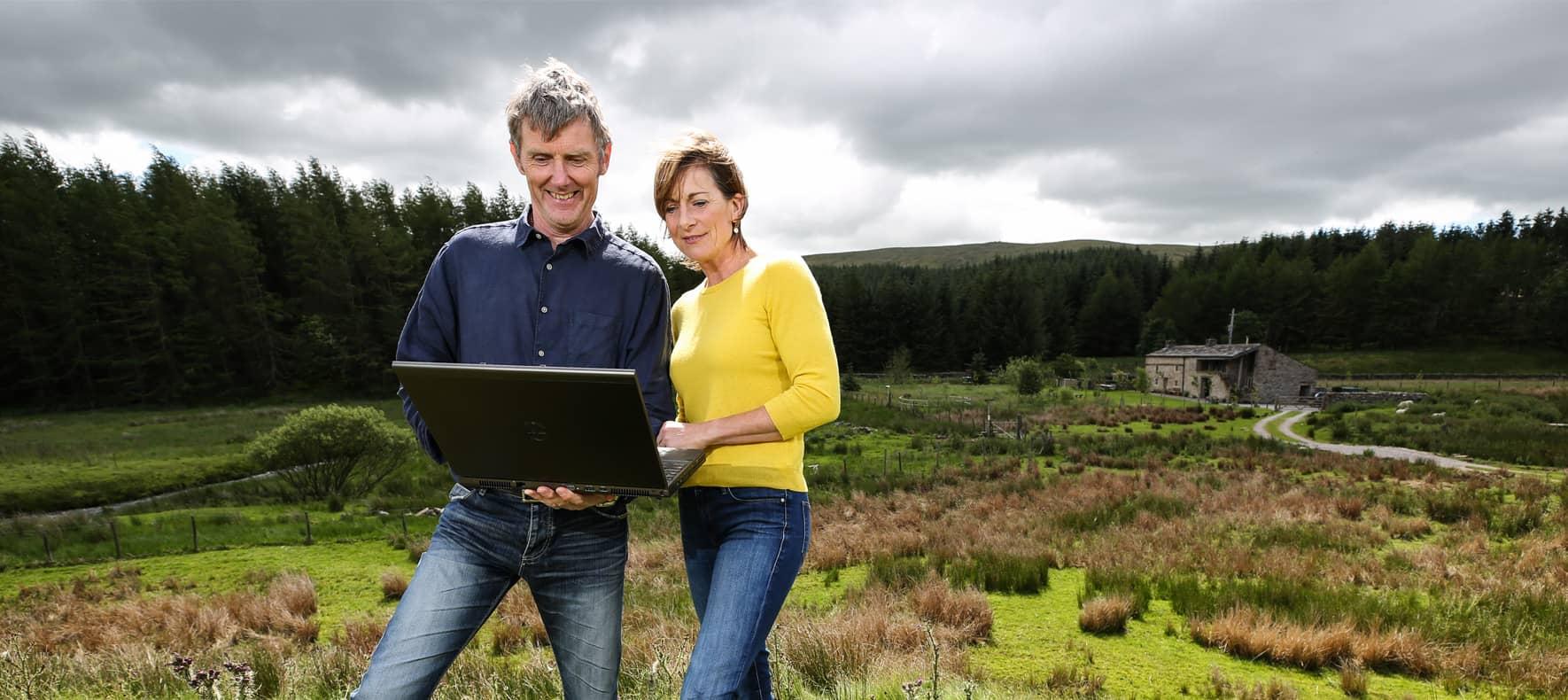 Customer Testimonial